TWIN-PATH® ADJUSTABLE BRIDLE SLING
The Twin-Path® Adjustable Bridle (TPXA with K-Spec® fiber core yarn or TPA with polyester core yarn) is a two-leg bridle made with a Twin-Path® roundsling and adjustable bridle ring. When tension is applied to the Twin-Path® Adjustable Bridle, it self-adjusts until the lifting point is over the center of gravity (COG). This allows the two legs to be adjusted for a level lift without the need for custom slings or hardware.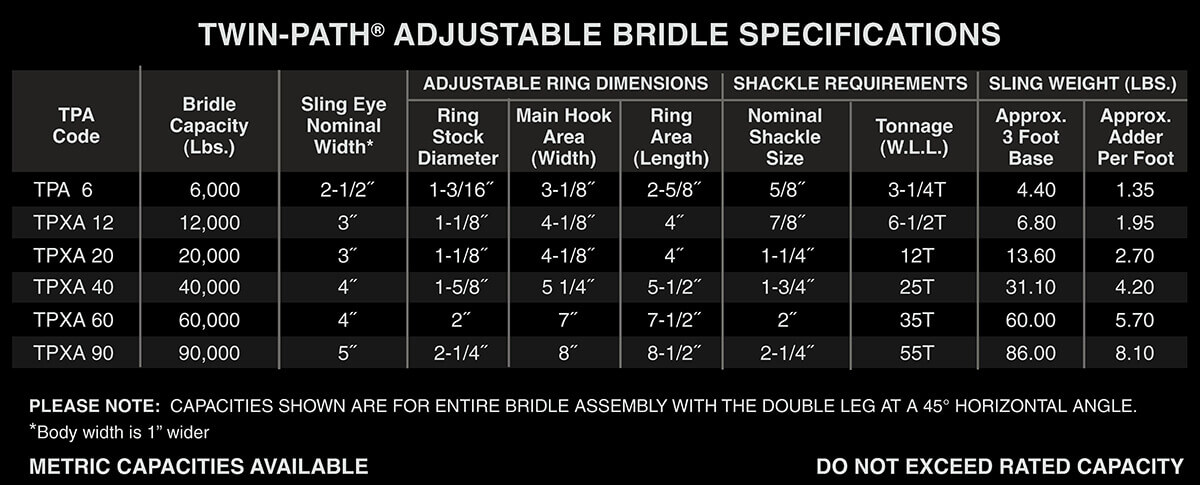 WARNING
Sling can fail if damaged, misused or overloaded. Inspect before use. Damaged sling shall not be used. Use only if trained. Do not exceed rated capacity. Protect sling from being cut by load edges, corners, protrusions and abrasive surfaces. Avoid exposure to acid, alkali and temperature over 180°F. DEATH or INJURY can occur from improper use or maintenance.
US Patent #5,651,572, #7,926,859 CA #2,195,393 EP #0785163 Japan #2929431 Australia #707924