Entertainment Hoist
LODESTAR ELECTRIC CHAIN MOTOR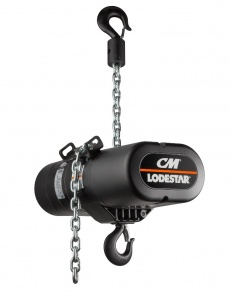 Legendary in performance, professional riggers around the world have come to rely on the CM Lodestar® for the most demanding and challenging applications. Now, this iconic hoist is available as an economical 2-ton single-reeved unit that's ideal for a variety of lifting applications. And, because it's a single reeved unit, overall weight is decreased making it easier to transport and rig compared to a traditional double-reeved unit.
KEY FEATURES
Capacities: 1/8 to 2 tons
Standard Lift: 60 feet (other lifts available)
Speeds: 5 to 100 feet/min.
Voltages: 1-phase and 3-phase
5 Pocket Lift Wheel
improves chain wear & smooth lifting
Clutch Outside Gear Train
meets international standards
Precision Helical Gearing
for quieter operation
Redesigned Control Panel
STANDARD FEATURES
Heavy Duty DC Brake: designed for a long service life, the brake location allows for quick access & easy inspection.
Low Voltage Control: 110 Volt for long cable runs without voltage drop. 24 & 48 Volt optional. (Low Voltage Unit Only)
Durable & Lightweight Housing: cast aluminum. Black powder coated finish for low visibility.
Gearing: helical design for long wear life and smooth operation.
Load Chain: Designed and manufactured in the USA by Columbus McKinnon. Star Grade chain is zinc plated to protect against corrosion. 2-ton, single-reeved units feature 10 mm load chain as standard. Optional black finish available.
Duty Cycle: H-4 duty rated for heavy duty application. 2M+ FEM class. 50% Duty Cycle or 300 on/off per hour.
Electrical: finger safe wiring meets all electrical codes. Quick change plugs allow for Voltages 208 through 460. Prevents improper voltage connections which can cause hoist damage. (Low Voltage Unit Only)
Adjustable Limit Switch: adjustable screw limit switch that will automatically stop the hook at any predetermined point when either lifting or lowering, preventing overtravel. (Low Voltage Unit Only)
Overload Protector: designed to prevent lifting of excessive overloads. Helps prevent lifting of dangerous overloads.
Metric Rated
Meets Requirements: meets or exceeds world standards.
Road Ready: easy to stow and travel.
Lifetime Warranty: the industry's best.
OPTIONAL FEATURES
Double DC Brake: two independent acting DC Brakes for redundant braking. Field installation kit available.
AC Electric Brake Encoders Available: incremental & absolute.
Chain Bags: cloth type bags easy-to-mount.
Variable Speed Units Available
Alloy Latchlok Hooks: remains locked until released by the operator, even if chain goes slack.
Direct Control Unit: Featuring a single cable, this Direct Control Unit can be used as part of a system with multiple units with a single control. The Lodestar is compatible with most Direct Control Motor Controllers.