Cordage
Elko Wire Rope provides a variety of top quality cordage solutions for your rigging needs.
---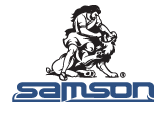 We are an authorized Samson dealer and we carry their full line of products. Please refer to Samson's website to find the correct product for your application by clicking on the Samson logo.
---
Manila rope was once the preferred choice in ropes before the synthetic fibers were developed. Manila ropes still maintain some advantages to synthetic fibers. It is not affected by heat, and has excellent resistance to the suns UV (ultraviolet) rays.
---

POLYPROPYLENE & POLYETHYLENE make a flexible and lightweight rope. They are rot proof, resist oil, water, gasoline, and most chemicals. They are the only rope fibers that float. Available twisted or braided, they are a perfect economical choice as a general purpose rope.
---
NYLON is known for its elasticity and tremendous shock absorbing qualities. It has good abrasion resistance, is rot proof, resists oil, gasoline, and most chemicals. It has good resistance to UV rays. Nylon will last 4-5 times longer than natural fibers.
---
POLYESTER is very strong and provides excellent abrasion resistance. Polyester stretches less than nylon, so it does not have the elasticity of shock absorbing qualities that nylon does. It has good resistance to UV rays, and resists rot, oil, gasoline, and most chemicals. It is very popular as a marine or industrial rope where stretch is not desired.